Educators Immerse in History on Iconic Vessels
NEW BETHLEHEM (RVO) – Local Educators got a firsthand look into the past as the U.S.S. Midway and National WWII Museum hosted special institutes for teachers. Here, instructors dove deep into the history of these iconic vessels, giving them an invaluable chance to gain historical context and expertise.
It truly was something special– recently thirty teachers had the chance of a lifetime to explore the iconic vessels of World War II and the Cold War. Their expedition took them to two remarkable locales, the U.S.S. Midway Museum in San Diego and the National WWII Museum in New Orleans.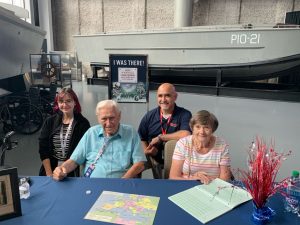 The U.S.S. Midway Museum recently held a two-week, totally immersive teacher institute all about the Cold War and its effects on America. It took place on an old-school Cold War aircraft carrier and was a real knowledge-fest with professors from Dartmouth, UCLA, San Diego State University and more offering their expertise. Everyone got a much clearer perspective of this major period in history.
It was a special opportunity for the teachers to get an insider's perspective of the Korean and Vietnam Wars from veterans themselves. That, plus a lot of other great activities — like watching San Diego's brilliant Fourth of July fireworks show from the deck of the Midway and taking a breathtaking two-hour tour of the harbor with its stunning Pacific fleet! What an incredible learning experience this was!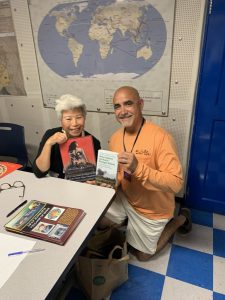 When Harmon visited the institute, he was lucky enough to get a moment with Le Ly Hayslip– who the movie "Heaven and Earth" was based on. She regaled him with tales from her tumultuous upbringing in war-ravaged central Vietnam, and generously gave away signed copies of her autobiography as parting gifts. Truly, it was an unforgettable experience.
Dr. Joseph Harmon was one of the many attendees, and he was over the moon for the chance to be part of it all. Plus, as a local from San Diego in the 80s, he got to show his family around his old hangout spots—amazing! His wife and daughters joined in on the fun during week two, making this experience truly unforgettable for them all. Even more special, Harmon's one daughter Natalie is a teacher and art instructor at Armstrong County High School.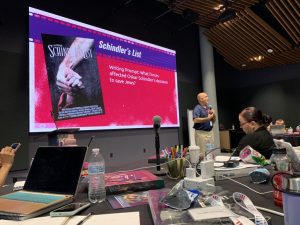 But the unforgettable journey wasn't over. After he touched ground in San Diego, just a week later Harmon was airborne once more, this time alighting in New Orleans. He was hand-picked as an instructor for the National WWII Museum's Collection to Classroom Trainer Program. The seminar concentrated on the home front, movies, and the influence of World War II, and lasted an entire week.
As a Master Educator, Harmon was tasked with participating in the museum's training, and providing support to the education team with organization. It was impressive– Harmon had dedicated himself wholly and completely to teaching people about history.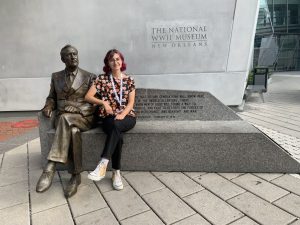 Harmon's drive to join teacher institutes was spurred by an ambition to up his Advanced 10th-grade History course to an Honors U.S. History class. He wished to deliver material with precision and detail, so that the experience for his students could be powerfully profound.
Harmon was overjoyed about his invitation to join Team Liberation in 2019 and learn on board the iconic U.S.S. Midway. His ties to the National WWII Museum earned him more invites, such as a fully paid for vacation to Munich, Germany where he could visit various Second World War landmarks.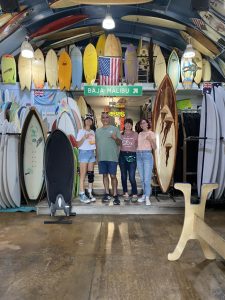 Come November, the National WWII Museum will launch its new Liberation Pavilion—and they've asked Harmon to be a part of it. He's stoked for the opportunity to get a more comprehensive grasp of history and better equip himself to motivate and educate his students.
These enriching experiences have given Harmon a vast store of historical knowledge, making him qualified to explain WWII and the Cold War in all their intricacies. Coming back to teach now, he's bringing his knowledge of times gone by with great anticipation—eager to guide youth and build a well-rounded appreciation for history.
Teacher institutes have a much larger influence than just in the classroom – they make sure that history is never forgotten, and that special educators have the tools to make yesteryear fascinating for those who haven't yet experienced it. This legacy continues, with new generations passing on stories of times long gone.
---
ABOUT:
Redbank Valley School District provides education services for the 165 square mile area of New Bethlehem and Hawthorn boroughs, and the townships of Mahoning, Madison, Porter, and Redbank of both Clarion and Armstrong counties.
MEETINGS:
The Redbank Valley School Board meetings the first Monday of every month at 7pm at the High School Library.
CONTACT:
For more information about the Redbank Valley School District, please call 814.275.2426 or visit RedbankValley.org/pg/biz/redbank-valley-school-district
Share on Social Media or Email!