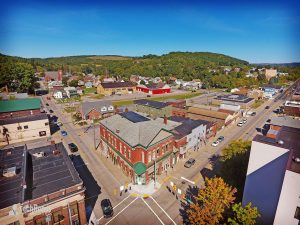 Welcome to the Redbank Valley and New Bethlehem, Pennsylvania! RedbankValley.org is a hyper-local community service, courtesy of TechReady Professionals, Inc.
OUR VISION: RedbankValley.org will be the leading source for community information in New Bethlehem, Pennsylvania and the Redbank Valley area.
OUR MISSION: The mission of RedbankValley.org is to enhance the quality of life in the Redbank Valley community by centralizing resources to foster economic growth and prosperity.
ABOUT US: The Redbank Valley area has a central tri-county location along the rolling hills of rural northwestern Pennsylvania, one hour north of Pittsburgh, in southern Clarion County and northern Armstrong County, at the midpoint of the Redbank Valley Trails, centered around downtown New Bethlehem, which lies at the intersection of State Routes 28 & 66, with easy access to Interstate 80. See 'About Links' on this page.
The Redbank Valley is home to the following communities:
New Bethlehem, South Bethlehem, Hawthorn, Distant, Cottage Hill, Fairmount City, Alcola, Mayport, Oak Ridge, Truittsburg, Seminole, Widnoon, Rockville, Saint Charles, Climax, Curllsville, Putneyville, Leatherwood, Shannondale, Lawsonham, Porter Township, Madison Township, Redbank Township, Mahoning Township