REDBANK VALLEY DAY OF GIVING
*Video courtesy of Cecelia Harmon of TechReady Professionals & RedbankValley.org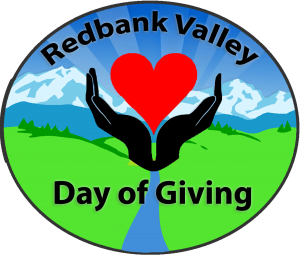 THE SIXTH ANNUAL REDBANK VALLEY DAY OF GIVING WILL BE HELD ON THURSDAY, May 12thTH with a goal of raising at least $40,000 in public donations and $40,000 in matching funds for a dollar for dollar match. The pandemic has curtailed holding fundraising events during the last 2 years. These organizations need the public's support to continue their important missions in the Redbank Valley.
Funds raised will benefit the 11 participating 501(c)(3) charitable organizations who, through their hard-working volunteers, are working to improve many aspects of life in the Redbank Valley. Proceeds help with their missions, with very little, if any, administrative or fundraising costs. The participating organizations this year are: Brandon's Dad (DUI Awareness), Just Us for the Animals, New Bethlehem Fire Company #1, Redbank Renaissance, Redbank Valley Church Association, Redbank Valley Community Center, Redbank Valley Education Foundation, Redbank Valley Historical Society, Redbank Valley Public Library, Redbank Valley Trails Association and Southern Clarion Police Association.
It is hoped that the event will grow in future years to include other area 501(c)3 organizations that were not able to participate this year.
Click the organizations below to view donation information and links.
DONATION LOCATIONS:
Donations are tax deductible to the full extent the law allows for any of the participating organizations and can be mailed or dropped off to the organization or at the Donation Locations on or before May 12th as follows:
• Redbank Valley Public Library (720 Broad St.) New Bethlehem (11 AM to 6 PM)
• New Bethlehem Town Center (419 Arch St.) New Bethlehem (9 AM to 5 PM on May 12th)
• directly to the organization or via online donations on each of the organization's websites. (Please note that
online donations through PayPal will deduct a fee of 2.2% plus $.30.)
Contact any of the organizations or 814-275-1718 for more information. All donations stay local. Together, with
your support, we can make a real difference and improve life in Redbank Valley.