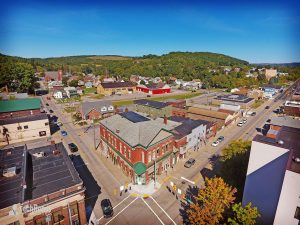 A Trail Town is a destination along a long-distance trail or adjacent to an extensive trail system. Whether the trail is a hiking trail, water trail or rail trail, users can venture from the path to explore the unique scenery, commerce and heritage that each trail town has to offer. The Redbank Valley Trail runs through the heart of New Bethlehem, Pennsylvania and several surrounding communities in the Redbank Valley area.
Redbank Renaissance is a local 501(c)(3) non-profit that fosters numerous economic revitalization efforts for the Redbank Valley community – one of those efforts is working alongside the Redbank Valley Trails Association to develop the Redbank Valley area and New Bethlehem as a Trail Town.
The Redbank Valley Trail Town Guide features:
History of the local railroad and its conversion to the Redbank Valley Trail
Planning for economic restructuring and trail-related business opportunities
Location development of conveniently accessible resources and tourism
Business needs including available real estate and business development
Economic impact of business revenue, jobs and workforce expansion
Other helpful resources including videos and documentation
If you're a business entrepreneur or trail enthusiast looking for local opportunities/ideas, checkout the Redbank Valley Trail Town Guide by visiting: RedbankRen.org/trail-town
*The Redbank Valley Trail Town Guide is courtesy of Redbank Renaissance, Inc.