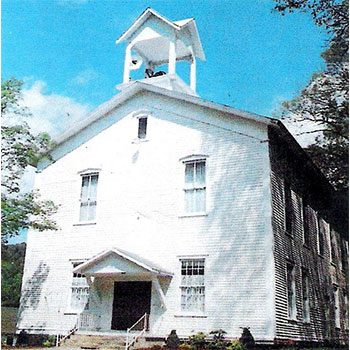 1034 State Route 1025, New Bethlehem, Pennsylvania
1034 State Route 1025
New Bethlehem
Pennsylvania
16242
US
The Putneyville United Methodist Church is located at 1034 State Route 1025 New Bethlehem PA, 16242
The history of the church in Putneyville stretches back past 1870, when this present church building was planned. In 1835, a small class began meeting in an old schoolhouse near the Smullin homestead. Later, William Smullin, the first class leader, invited them to meet in his new house (a large Log cabin).The class then built a church near "the Smullin Grave yard." In 1844, the class was moved to the Associate Reformed or U.P. Church, now the abandoned school building, in order to be closer to a majority of members.During the Civil War, records of the Sabbath School indicate that it sometimes closed and sometimes found attendance quite poor because of the number of members and teachers who had gone to fight the war.
The Putneyville appointment was part of the New Bethlehem circuit and belonged to two other Methodist charges before 1869 when it became the Putneyville Charge of the Erie Conference with Rev. J.L. Mechlin as the First pastor.
The present building, which became known as the Putney Chapel Methodist Church, was built on the land conveyed to the trustees of the church on December 27, 1870, by George S. Putney. A forty-by-sixty-foot building was planned and erected. The building was dedicated in the early part of 1872.
In 1886, the Belfry was erected at a cost of $78.00; 1889, a tin roof was put on the church; 1892, church was painted silver gray with dark lead trim; 1909, church painted pure white; 1917; piano set in for trial; 1932, electric light installed at corner of church.
In 1924, The Ladies' Aid Society provided spouting for upper side of church; 1925, was given permission to partition off room in basement; 1938, provided a new ceiling for the church. In 1982, a well was dug at side of building; 1896, a chair lift was installed; 1994, side addition allowing ramp for handicap access; 1997, church chimes were purchased to be played over the community; 1998, the parking lot was paved and new siding on church.
The church continues community involvement; such as, telephone prayer chain, promotes use of community resources and participates in community interdenominational activities.