Resources & Support for New Bethlehem Businesses 2020
NEW BETHLEHEM, PA. (RVO) – Small businesses are the foundation of our communities and our economy. Employing nearly half the American workforce, small businesses like those in the New Bethlehem area & Redbank Valley community keep our neighborhoods running and make them feel like home.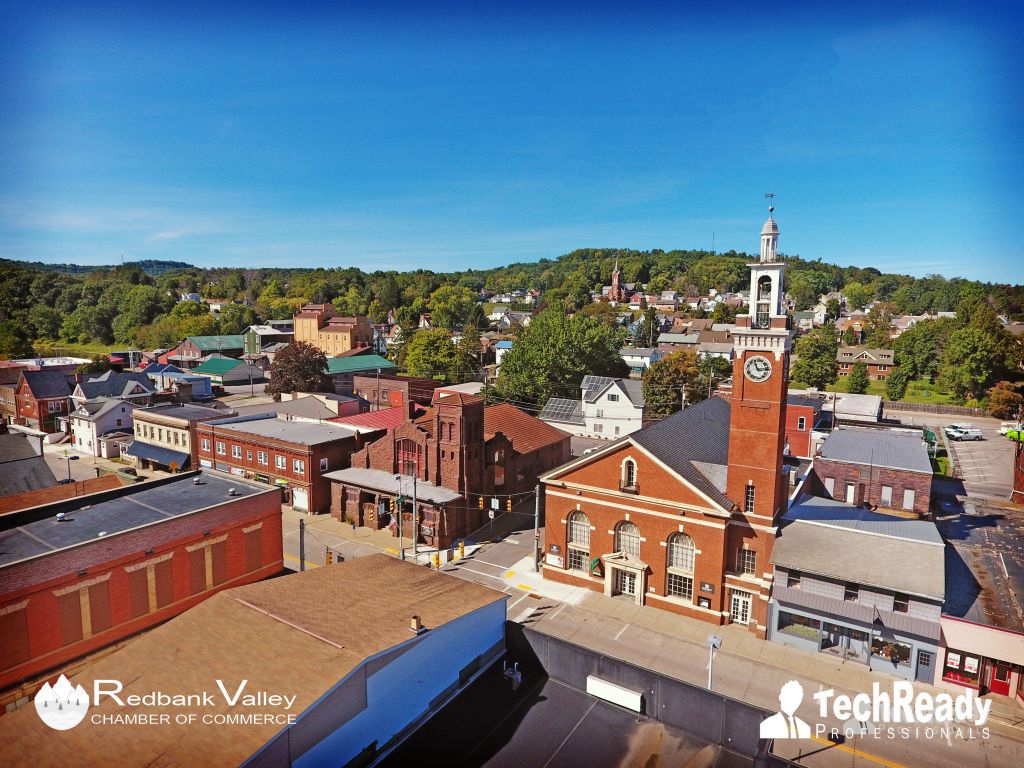 Local businesses have reported facing multiple challenges during the last several months due to governmental restrictions and health-safety limitations.
Officials from the New Bethlehem area and the Redbank Valley community have been organizing helpful resources and information to aid local businesses through these challenging times.
New Bethlehem Mayor Gordon Barrows shared; "I wish to express my sincerest appreciation to the Redbank Valley Chamber of Commerce and specifically Vice President Jamie Lefever as well as New Bethlehem Borough Council, and specifically Council President Lisa Kerle and Vice President Sandra Mateer. All of these ladies have been instrumental in obtaining grants, funding and organizing resources to aid the local business community in the New Bethlehem area and Redbank Valley community."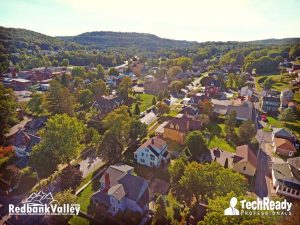 1. UNEMPLOYMENT APPLICATION
The Clarion Small Business Development Center recently announced that self-employed unemployment applications can now be filed. More information can be found here: https://www.uc.pa.gov/COVID-19/CARES-Act/Pages/FPUC-FAQs.aspx 
2. SAVE SMALL BUSINESS FUND
Funded by corporate and philanthropic partners, the Save Small Business Fund is a collective effort to provide $5,000 grants to as many small employers as we can. The United States Chamber of Commerce hopes these supplemental funds will help business get through the next days and weeks.
Redbank Valley Chamber of Commerce Vice President and Executive director of the Jefferson County Development Council, Jamie Lefever informed local officials of the small business grant; "As part of an economic recovery team, I feel it is important to inform businesses of any resources that become available to allow businesses to make or take advantage of any programs that might fit in their unique situations. As a chamber board member, I want to keep the community informed."
For further information on the grant: https://www.savesmallbusiness.com
***UPDATE: the Save Small Business recently published the following notice on their website: "Due to overwhelming demand, we're unable to accept new applications. We are in the process of awarding grants and wish we could help everyone in this challenging time."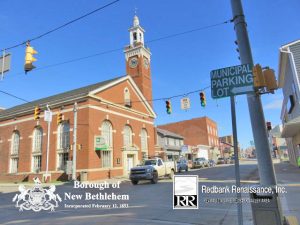 3. GRANTS, LOANS & FUNDING
New Bethlehem Borough officials have also been organizing resources to help taxpayers and local businesses.
Last Fall, New Bethlehem Borough was able to obtain a USDA Rural Development Grant for purchase of the Street Department's new pick up/plow truck that was delivered in November. That grant of $53,700 also enabled the Borough to obtain a new garbage truck in combination with a low interest long term loan for $32,000 and $61,747 in monies that have been reserved by the Borough over the years.
The truck's delivery has been delayed due to the COVID-19 Pandemic closures. It replaces the Borough's 2009 truck whose use was extended a year beyond the usual 10-year replacement schedule. It will allow the Borough to continue to provide very cost effective garbage collection services, including a cart tipper for large cans for the safety of Borough employees.
Although Federal or State funding is not yet approved nor available for municipalities under the Paycheck Protection Program or the Families First Act, the Borough is researching ways to cover the unanticipated sick leave and equipment and supply costs mandated and incurred due to the Pandemic.
Borough Council members are in communication with our County, State and Federal representatives and agencies to determine what funding is available and when they can apply. In the meantime all costs are being recorded.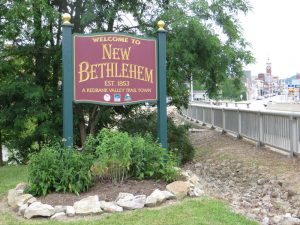 4. THE LATEST NEWS & UPDATES:
Officials would like to remind local residents and businesses to join the Chamber, Borough, Community Center and other local government and civic organizations on social media for the latest news and resources.
New Bethlehem Mayor Gordon Barrows shared; "I recently updated my mayoral web-pages to reflect real-time social media updates, monthly reports as well as  other helpful information regarding community projects, and economic efforts being made to support taxpayers and local businesses in the New Bethlehem area and Redbank Valley community."
Mayor Barrows encouraged residents to visit NewBethlehemBoro.com/Mayor or GordonBarrows.com/Mayor and browse through the resources within each tab, paying special attention to the 'Reports' tab where you'll find a monthly mayor report.
5. COMPLETE CENSUS
New Bethlehem Borough Council also stressed how important it is for citizens to complete their census forms because it directly impacts CDBG and other funding for the Borough that would otherwise have to be paid in taxes.
—
HELPFUL RESOURCES:
Redbank Valley Area
RedbankValley.org/coronavirus
New Bethlehem Borough:
NewBethlehemBoro.com/coronavirus
Redbank Valley School District
http://www.redbankvalley.net/index.php/district/district-news.html
Governor Wolf's list of life-sustaining businesses
https://www.governor.pa.gov/wp-content/uploads/2020/03/20200319-Life-Sustaining-Business.pdf
Life-sustaining business FAQ
https://www.scribd.com/document/452553495/Life-Sustaining-Business-FAQs
Clarion University:
www.clarion.edu/coronavirus
Unemployment Frequently Asked Questions:
https://www.corporatecostcontrol.com/wp-content/uploads/2020/03/COVID20203-2.pdf
Resources for Local Government Officials:
https://boroughs.org/fullnews.php?id=49
PA Department of Health
https://www.health.pa.gov/topics/disease/Pages/Coronavirus.aspx
Center for Disease Control (CDC)
Information for Household Members and Caregivers of someone who is Sick
People at Risk for Serious Illness from COVID-19
If you have any questions about the Coronavirus, contact the PA Department of Health at 877-PA-HEALTH or your local county emergency management coordinator.
https://www.pema.pa.gov/County-EMC/Pages/default.aspx
MEETINGS:
New Bethlehem Borough meetings are held the 3rd Tuesday of each month at 7:00pm at the Alltel/Windstream Building on Lafayette Street. Folks may contact the Borough's office to be placed on the meeting agenda.
MISSION:
New Bethlehem Borough Council fosters business, community, and personal growth within the borough while maintaining the small town appeal and family friendly environment that makes New Bethlehem such a great place to work, live and raise a family.
GOALS & OBJECTIVES:
To learn more about Council's Goals & Objectives, please visit: NewBethlehemBoro.com/about and click the 'Mission' tab.
CONTACT:
To contact any member of Council or the Borough's office, please visit: NewBethlehemBoro.com/about and click the 'Council' tab. You may also 'like/follow' New Bethlehem Borough on Facebook for the latest news/announcements: Facebook.com/NewBethlehem

For more info, please visit New Bethlehem Borough's website: NewBethlehemBoro.com
Share on Social Media or Email!