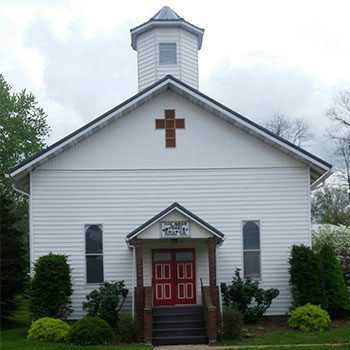 Oak Ridge Road, Oak Ridge, Pennsylvania 16245, USA
691-697 Mount Zion Road
Oak Ridge
Pennsylvania
16242
US
The Oak Ridge United Methodist Church is located on Oak Ridge Road, Oak Ridge, Pennsylvania 16245, USA
Methodism began in Oak Ridge with the organization of a small class in 1894 with Mr. George McAninch as the Class Leader. Later that same year, a small child at the time, Mrs. Myrtle Reighard Wohlbaugh turned the first shovel of ground to erect the present church building. The New Bethlehem Vindicator, dated October 19, 1894, stated, "The new ME Church, now being erected at Oak Ridge, is up and partly under roof." The building was opened and ready for use in 1895.
The church, known as the Methodist Episcopal Church, was part of the Erie Conference. The first pastor to serve was Rev. Francis Marion Small (1895-1897). In 1897, Bishop Fowler as pastor of the New Bethlehem Church appointed Rev. E. N. Askey. This included serving the congregation at Oak Ridge. In 1930, Oak Ridge was placed on the Putneyville Charge and in 1934 the Oak Ridge Church became part of the Summerville Charge. This charge included Summerville, Kingsville and Oak Ridge. The church remained part of the Summerville Charge until 1972, when Oak Ridge was placed with Calvary Church to form the present Hawthorn Charge.
Remodeling of the original church building began and a basement was added in 1954; a parcel of land adjacent to the church was purchased in 1956 for $50.00; pews and carpet were added to sanctuary in 1958; The Evangelical United Brethren and Methodist Churches merged in 1968; The Oak Ridge and Mt. Zion Churches were united with the Hawthorn Calvary Church to form the Hawthorn Charge and a kitchen was added to the basement in 1972; a new piano and organ were purchased in 1974; siding was added to the building in 1982; a well was drilled for an additional source of water in 1985 and a side handicap accessible porch and asphalt parking lot were added in 1991.
In this past century we have moved from horses to automobiles and from outdoor to indoor plumbing; we have witnessed missions to outer space and advances in modern medicine; we have suffered and survived two world wars and several international conflicts. Throughout these varied events of the best and the worst of the human experience, this church has stood as a rock, a refuge, a learning center, and a gathering place. But most importantly, the Oak Ridge United Methodist Church has stood as a link to God for this congregation and this community.