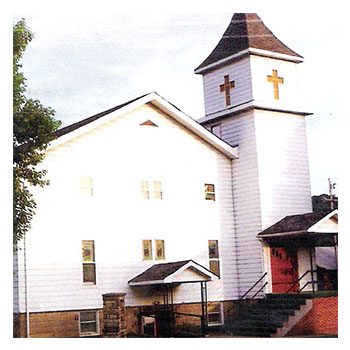 4024 Main Street Hawthorn PA 16203
4001 Main Street
Hawthorn
Pennsylvania
16230
US
The Hawthorn Calvary United Methodist Church is part of the Redbank Valley United Methodist Ministry, Franklin District
Mailing Address:  234 Penn Street, New Bethlehem PA 16242
The exact date of the building of the church is not known, but an item from the quarterly conference minutes of April 12, 1873, mentions securing lumber; and in the May 2, 1874 quarterly conference minutes, it states that the meeting was held in the Hawthorn Calvary Church. It is agreed that the church was dedicated about December 1, 1873.
The ground on which the church was built was deeded to Daniel Haupt and Jacob Shick for $250.00. Later another lot was deeded to J.C. Mohney and James C. McKelley for $250.00, and it was on this lot that the parsonage was built about 1875.
In 1893, when a division occurred in the Evangelical Association, the conference to which West Millville belonged, joined its forces with the United Evangelical Church. In 1922, the two bodies again merged to form the Evangelical Church.
In 1913, the church was remodeled for the first time at a cost of $2,412.00. The Mission Band raised $102.00 during the year and stood in first place at the W.M.S. Convention.
In 1915, the stained windows were placed in the sanctuary.
In 1916, at the annual conference, Hawthorn was separated from the Oak Ridge and Fairmount City Churches.
In 1925, the church was wired for electricity.
In 1926, the basement was added with a kitchen and heating plant.
In 1939, the church was carpeted for the first time and a garage was built for the parsonage.